This post contains affiliate links. I make a commission from sales. As an Amazon Associate, I earn from qualifying purchases. For more information, read my disclosure policy.
Air fryer mozzarella sticks made from scratch made with only 5 ingredients. Cut back on calories by air frying rather than deep frying.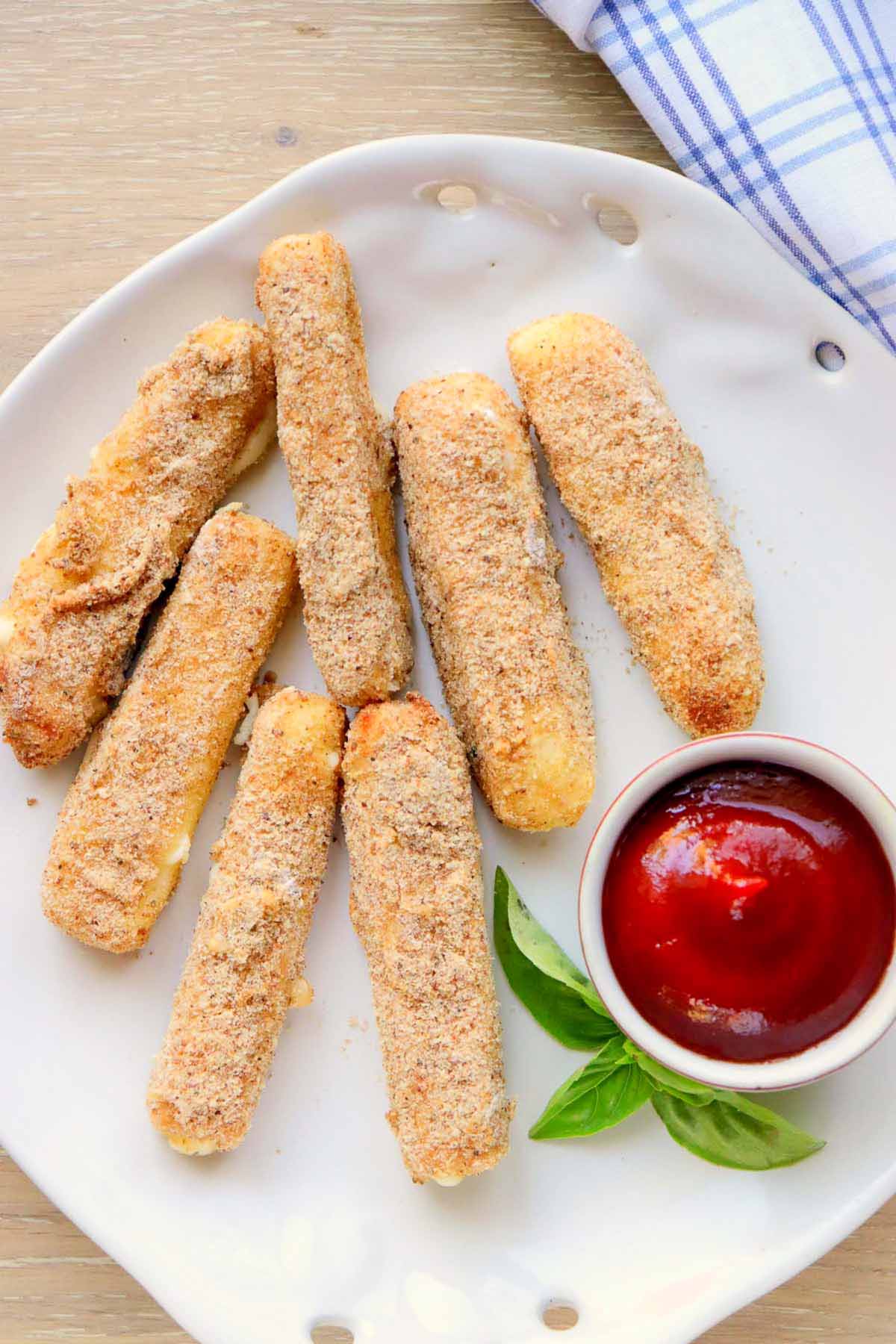 Jump to:
Check out my Air Fryer Sweet Plantains and my Air Fryer Carrot Chips for more great air fryer recipes!
It can be so hard to resist the ooey gooey cheesiness of mozzarella sticks. Especially if you're a cheese lover like I am.
These air fryer mozzarella sticks are no exception. Air frying them also drastically cuts back on calories as opposed to deep frying.
Making these mozzarella sticks is a fairly simple process and it doesn't require many ingredients. 5 to be exact, with cheese being the star, of course.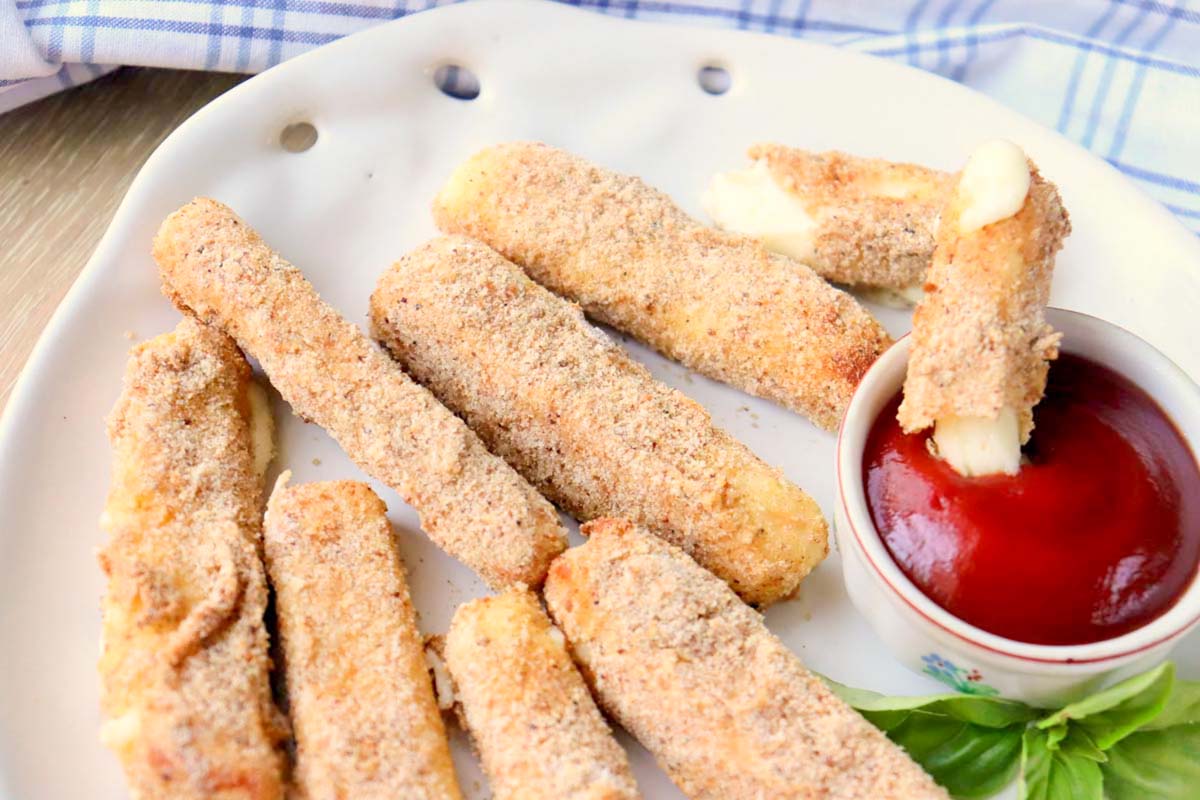 Why You'll Love This Recipe
Air frying cuts back on grease.
Made from scratch.
Delicious appetizer or snack.
Ingredients You'll Need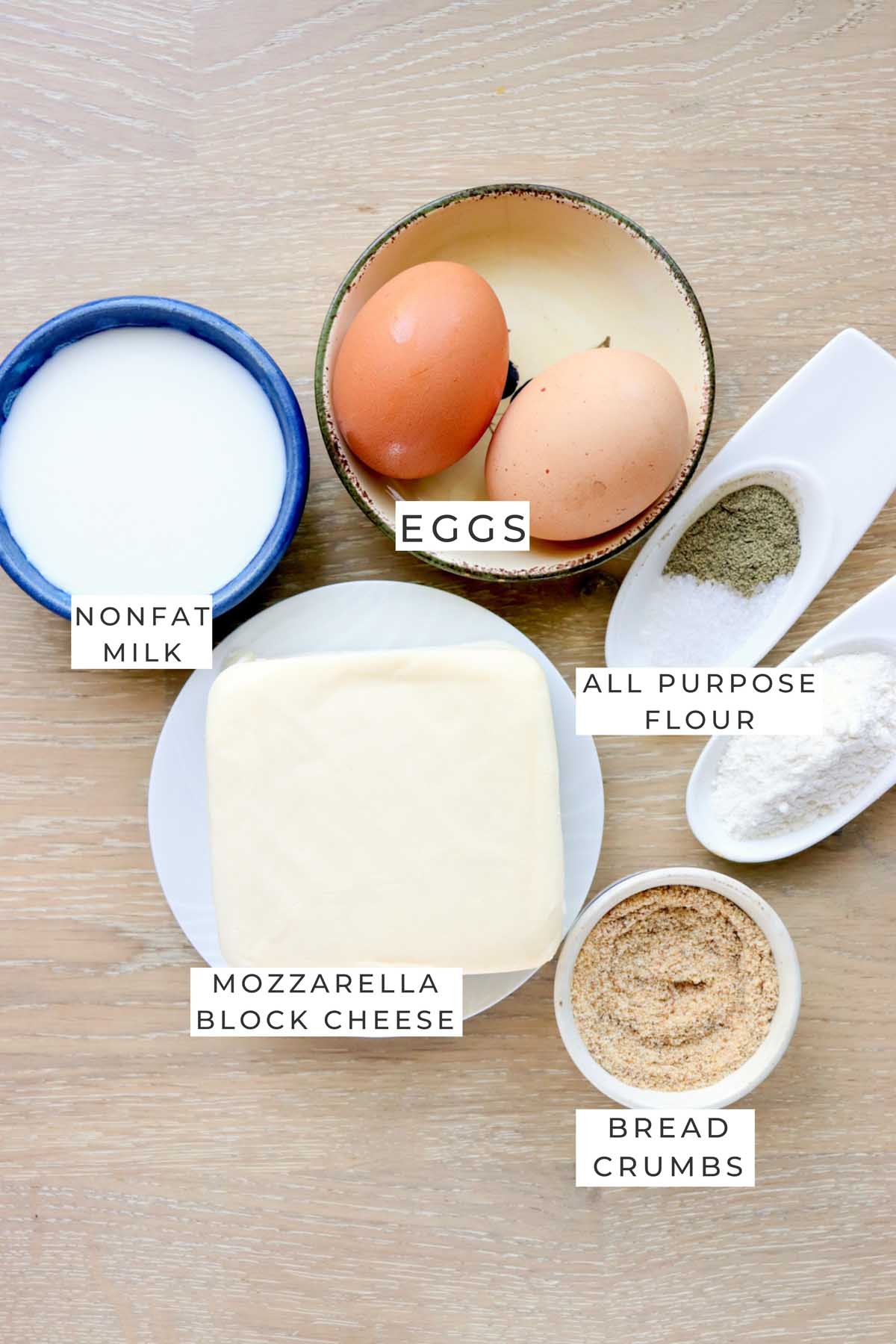 Mozzarella Block Cheese
Eggs
Nonfat Milk
Step-By-Step Instructions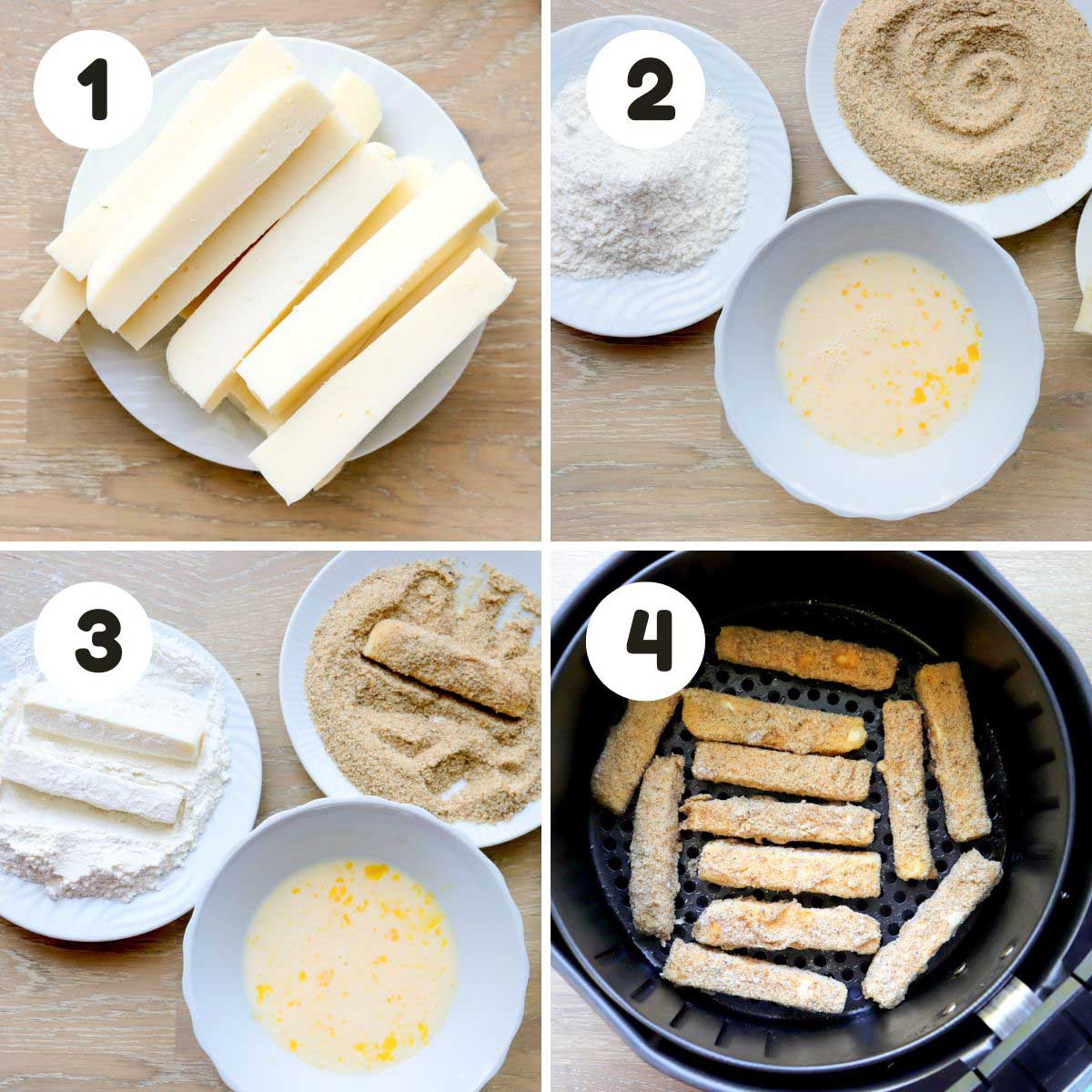 Step 1:
Start by cutting a block of mozzarella cheese into 3 x ½" squares.
Step 2:
Add the bread crumbs in one bowl and flour in a different bowl.
Step 3:
Then, in a third bowl, mix the egg and milk together.
Step 4:
Dip the cheese sticks in the flour, then egg, and then bread crumbs until all the cheese sticks have been coated in bread crumbs.
When coating the cheese with the bread crumbs, I recommend making sure to coat the cheese well not leaving any cheese exposed.
If there are areas where the cheese is exposed before going into the air fryer, then the cheese will ooze out of the breading. It leaves a cheese puddle in the air fryer basket, and a hollow cheese stick.
Step 5:
Lay the breaded cheese sticks flat on a cookie sheet and freeze for about 2 hours until they are solid.
Step 6:
Once the cheese sticks are frozen, set the air fryer to 390 degrees F and preheat for about 5 minutes. Remove the basket from the air fryer and spray with nonstick cooking spray.
Step 7:
Place small batches of breaded cheese sticks into the air fryer basket being carful not to overcrowd basket.
Step 8:
Cook for 2 minutes, then flip the cheese sticks over and cook for another 2 minutes.
I also recommend keeping an eye on your cheese sticks while they are in the air fryer. They can go from perfect to burnt fairly quickly. I found that cooking them for two minutes on each side, for a total of 4 minutes, worked perfectly for me.
NOTE: You can print the FULL recipe with all ingredients & detailed instructions below!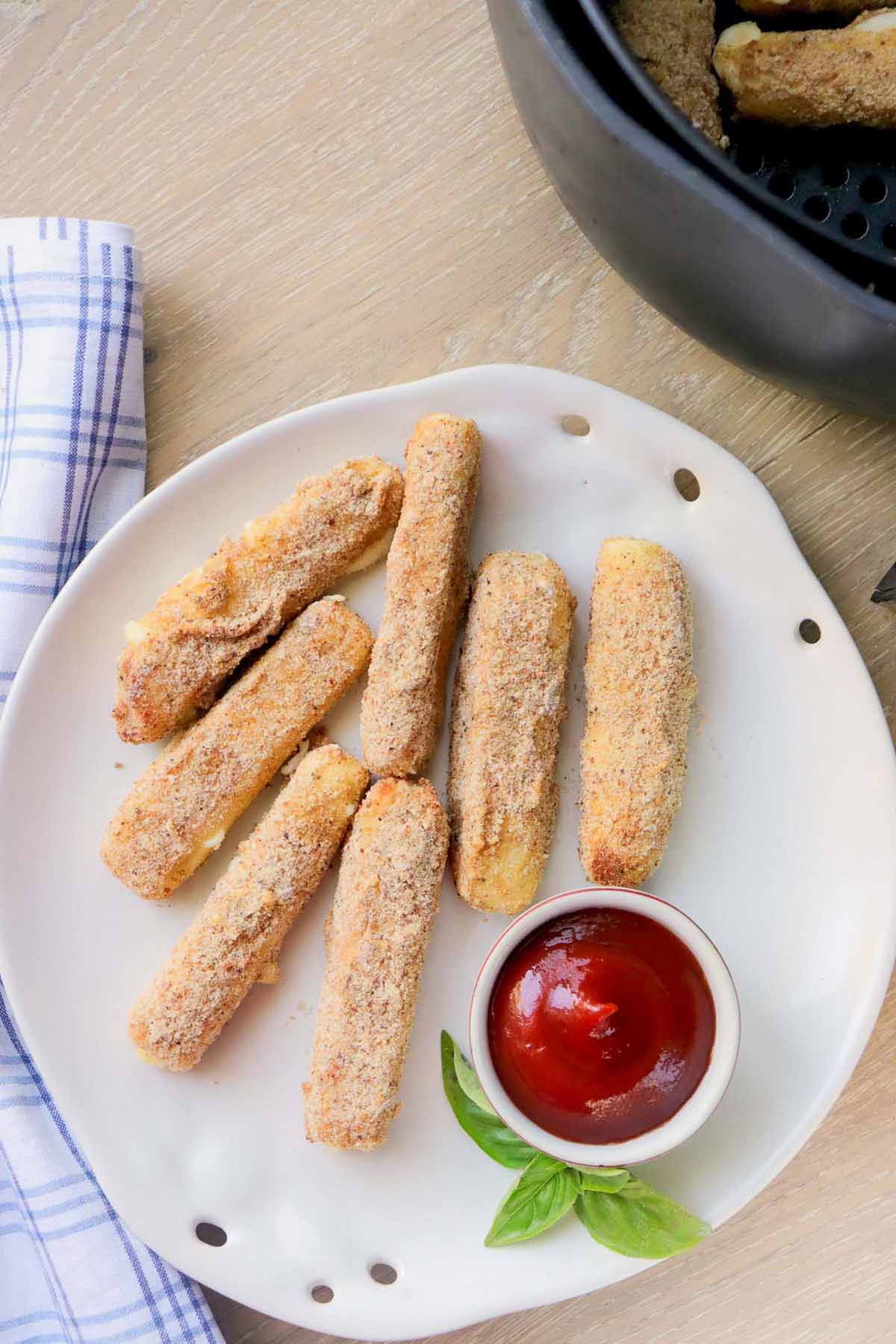 What Do I Serve With Mozzarella Sticks?
Mozzarella sticks can be served with tomato sauce or marinara sauce, as well as plum sauce, jalapeño jelly, barbecue sauce, honey mustard sauce, and ranch dressing. Most dipping sauces will work.
How Long Can I Freeze Uncooked Mozzarella Sticks?
If you're not ready to air fry all 24 sticks at once, keep the uncooked mozzarella sticks in the freezer. Properly stored in an airtight container or freezer bag they will last for about 8 months.
Click here to download my FREE kitchen cheat sheets.
More Air Fryer Recipes
If you love this recipe, please leave a comment with a five-star rating — or simply hit the five-star button in the recipe card. Don't forget to sign up for my newsletter.
Yield: 6 Servings
Air Fryer Mozzarella Sticks
Air fryer mozzarella sticks made from scratch made with only 5 ingredients. Cut back on calories by air frying rather than deep frying.
Total Time
2 hours
24 minutes
Ingredients
16 ounces mozzarella block cheese
2 large eggs
3 tablespoons nonfat milk
¼ cup all-purpose flour
1 cup plain breadcrumbs
Instructions
Cut cheese into 3 x ½ inch sticks.
Place bread crumbs in a bowl. Place flour in a bowl. Mix the egg and milk together in a bowl.
Dip cheese sticks in flour, then egg, and then bread crumbs.
Lay breaded sticks flat on a cookie sheet.
Freeze in freezer for 2 hours or until solid.
Set air fryer to 390°F and preheat for about 5 minutes. Spray basket with non-stick cooking spray. Take basket out to spray, don't spray into air fryer.
Place small batches of breaded sticks into fryer basket. Do not overcrowd.
Cook at 390°F for 2 minutes. Flip mozzarella sticks and cook for another 2 minutes.
Notes
Be sure to coat mozzarellas sticks well with breadcrumbs so no cheese is showing. This will prevent cheese from oozing out during cooking.
Different air fryer brands may cook at different rates, so be sure to keep on eye on food.
Nutrition Information:
Yield:
6
Amount Per Serving:
Calories:

276
Total Fat:

18g
Saturated Fat:

10g
Trans Fat:

0g
Unsaturated Fat:

0g
Cholesterol:

115mg
Sodium:

427mg
Carbohydrates:

19g
Fiber:

0g
Sugar:

0g
Protein:

21g
Nutritional information is only an estimate. The accuracy of the nutritional information for any recipe on this site is not guaranteed.