This post contains affiliate links. I make a commission from sales. As an Amazon Associate, I earn from qualifying purchases. For more information, read my disclosure policy.
Spicy marinara sauce over gluten free pasta is a healthier version to your even day pasta meal. Comfort food with healthy ingredients.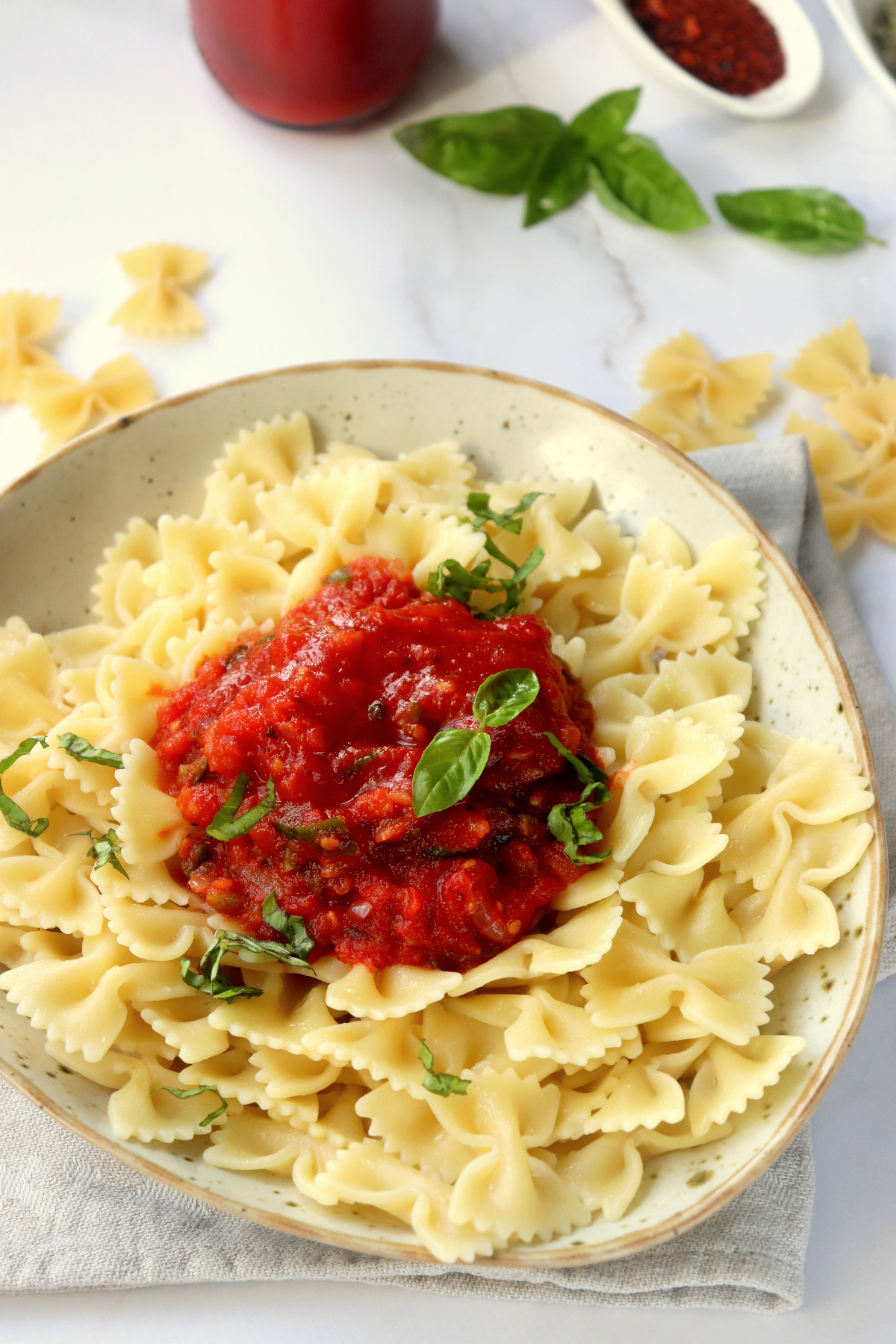 Love this spicy marinara sauce? Try my Gluten Free Berry Crumble and my Edible Gluten Free Cookie Dough for more delicious gluten free recipes!
When it comes to comfort food, pasta is at the top of my list. This spicy marinara sauce over gluten-free pasta is such a versatile dish with many different types of sauces and ingredients pairing nicely with it.
My all-time favorite type of pasta sauce is marinara which is the sauce I made here. Marinara with a kick!
Since I enjoy spicy food, I made this sauce spicy, but the spice level can be brought down to zero if that is the preference too. I use red pepper flakes to kick up the spice in this sauce, so less can be added, or none at all.
The sauce will taste delicious regardless. I also use a gluten free pasta which makes this dish completely gluten free.
What Are The Benefits Of Eating Marinara Sauce?
Marinara is a simple, tomato-based sauce. It's lower in calories per serving than other types of pasta sauces like pesto and Alfredo. Most tomato-based sauces are low in saturated fat, cholesterol-free and packed with lycopene.
Why You'll Love This Recipe
Perfect for those who don't eat gluten.
Can be made with your favorite pasta.
Sauce that can be adjusted to spice level preference.
Ingredients You'll Need
Marinara Sauce
Olive Oil
Yellow Onion
Green Bell Pepper
Garlic Cloves
Dried Basil
Dried Oregano
How To Make This Recipe
Step 1:
Dice up onion, green pepper, and garlic cloves and sauté them in a pan heated with olive oil. Sauté for about 5 minutes until the vegetables are soft.
Step 2:
Once the vegetables are soft, add in a jar of marinara sauce and the seasonings, and let simmer for about 15 minutes. When adding in the seasonings, adjust the amount of red pepper flakes to your liking. Let the sauce simmer for about 15 minutes. 
Step 3:
While the sauce is simmering, cook the pasta according to the package directions. I use Banza bowtie pasta, but any pasta works.
Step 4:
Once the pasta is cooked and drained, add to the sauce and toss well. You can also plate the pasta, and add a scoop of sauce to the top as well.
I recommend serving immediately while the pasta is still warm.
How Do I Keep Gluten Free Pasta From Sticking Together?
As soon as you drop the pasta into boiling water, stir it. Keep stirring until the pasta no longer settles to the bottom of the pot. Serve immediately after draining cooked pasta from water.
How Do I Store Cooked Pasta And Sauce?
Cooked pasta can be stored in an airtight container in the refrigerator for 3 to 5 days.
It's best to store the sauce separately.
How Do I Reheat Cooked Pasta?
To reheat, drop the pasta in boiling water for a few seconds and drain.
Yield: 4 Servings
Spicy Marinara Sauce Over Gluten Free Pasta
Spicy marinara sauce over gluten-free pasta is a healthier version to your even day pasta meal. Comfort food with healthy ingredients.
Ingredients
1 tablespoon olive oil
1 small yellow onion, diced
1 green bell pepper, diced
2 cloves, garlic, minced
24 ounce jar marinara sauce
1 teaspoon dried basil
1 teaspoon dried oregano
1 teaspoon Italian seasoning
2 tablespoons red pepper flakes
8 ounces bowtie gluten-free pasta
Instructions
Heat olive oil in a skillet over medium high heat. Saute the onion and bell pepper until onions are translucent, about 5 minutes. Add garlic and saute for another minute.
Pour in the marinara sauce and seasonings, stir well. Cover and let simmer for 15 minutes.
While sauce is simmering, cook pasta according to package directions. Serve pasta warm with marinara sauce.
Notes
Top with parmesan cheese, if desired. 
I use Banza brand pasta.
Nutrition Information:
Yield:
4
Amount Per Serving:
Calories:

365
Total Fat:

12g
Saturated Fat:

2g
Trans Fat:

0g
Unsaturated Fat:

2g
Cholesterol:

6mg
Sodium:

662mg
Carbohydrates:

53g
Fiber:

13g
Sugar:

17g
Protein:

19g
Nutritional information is only an estimate. The accuracy of the nutritional information for any recipe on this site is not guaranteed.
More Gluten Free Recipes You'll Love
Gluten Free Cold Italian Pasta Salad
Fish Tacos with Skinny Chipotle Sauce