This post contains affiliate links. I make a commission from sales. As an Amazon Associate, I earn from qualifying purchases. For more information, read my disclosure policy.
This Cauliflower Crust Margherita Pizza is the low-carb and keto-friendly solution to a craving for the real deal. Thin, crispy crust made with grated cauliflower, fresh cheese, eggs, and simple Italian seasonings, is topped with everything you'd expect from classic Neapolitan-style pizza!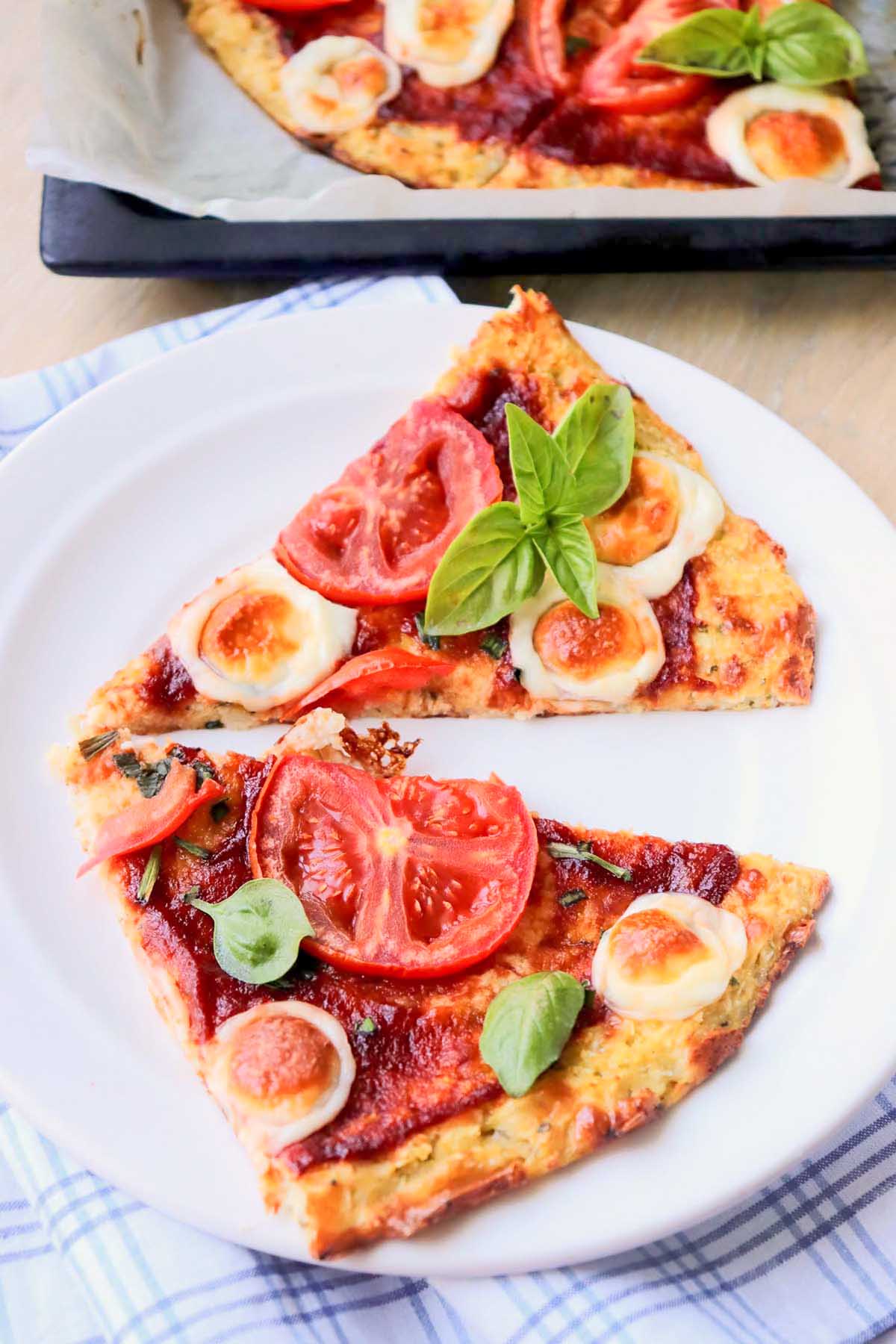 Jump to:
Love this margherita pizza recipe? Try my Mashed Cauliflower and my Cauliflower Rice for more delicious cauliflower recipes!
Cauliflower has made quite the name for itself, becoming much more than a cruciferous vegetable. These days, it's not unusual for cauliflower to take shape as rice, wings, mashed potatoes, gnocchi, and everyone's favorite -PIZZA!
This post will show you how to make the BEST gluten-free and keto pizza crust using fresh cauliflower, mozzarella, parmesan, and beaten eggs. The crust comes from the oven irresistibly golden, crisp, and flaky with the right amount of chew. It's the perfect dupe for regular pan pizza.
As for the toppings, this cauliflower crust pizza showcases the margherita necessities: olive oil, fresh tomato, mozzarella, and fresh basil. The cauliflower crust itself, however, holds up well under the weight so that you can pile on any combination of pizza toppings.
So skip the frozen pizza and grab the ingredients needed to make this delicious margherita pizza on homemade cauliflower crust!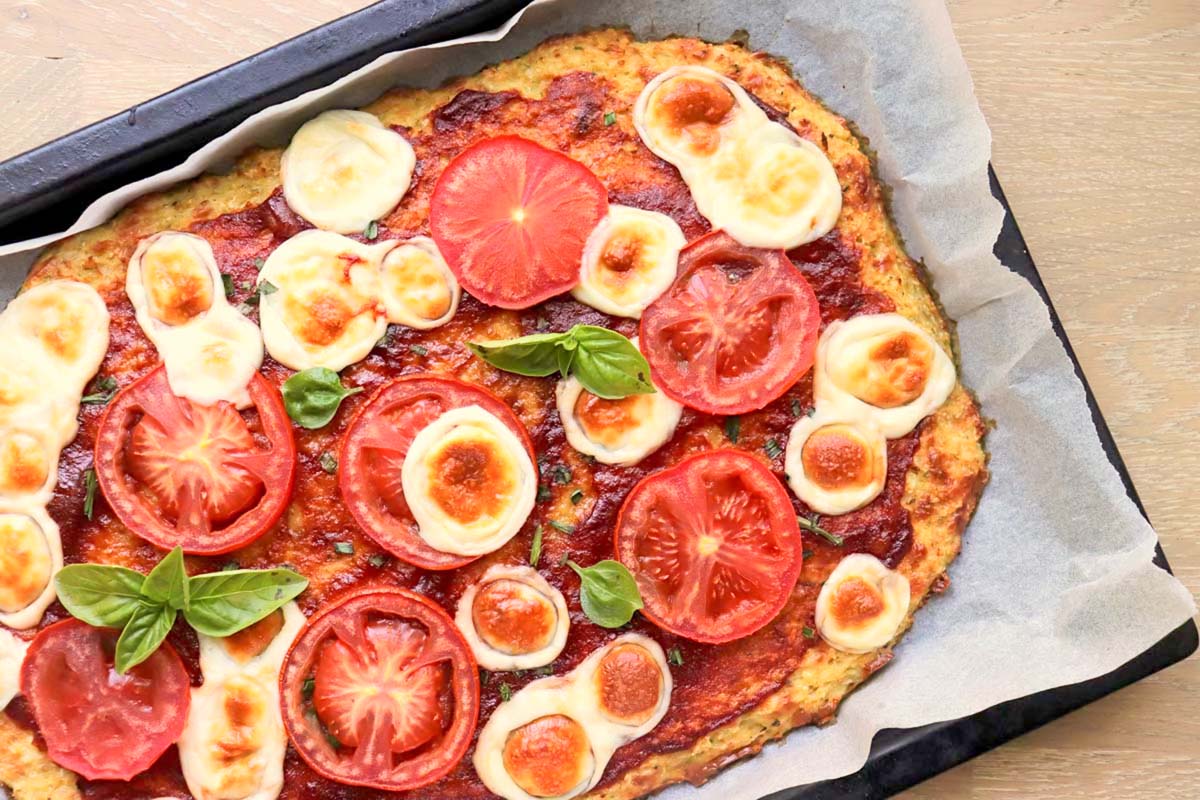 Why You'll Love This Recipe
You get a boost of fiber and B vitamins from all of that cauliflower while enjoying a satisfying slice.
Great low-carb pizza alternative. The crust doesn't contain flour or added starches.
It's easy to make and bake on a sheet pan. No fancy equipment is necessary.
You can use the crust for any toppings you like.
Ingredients You'll Need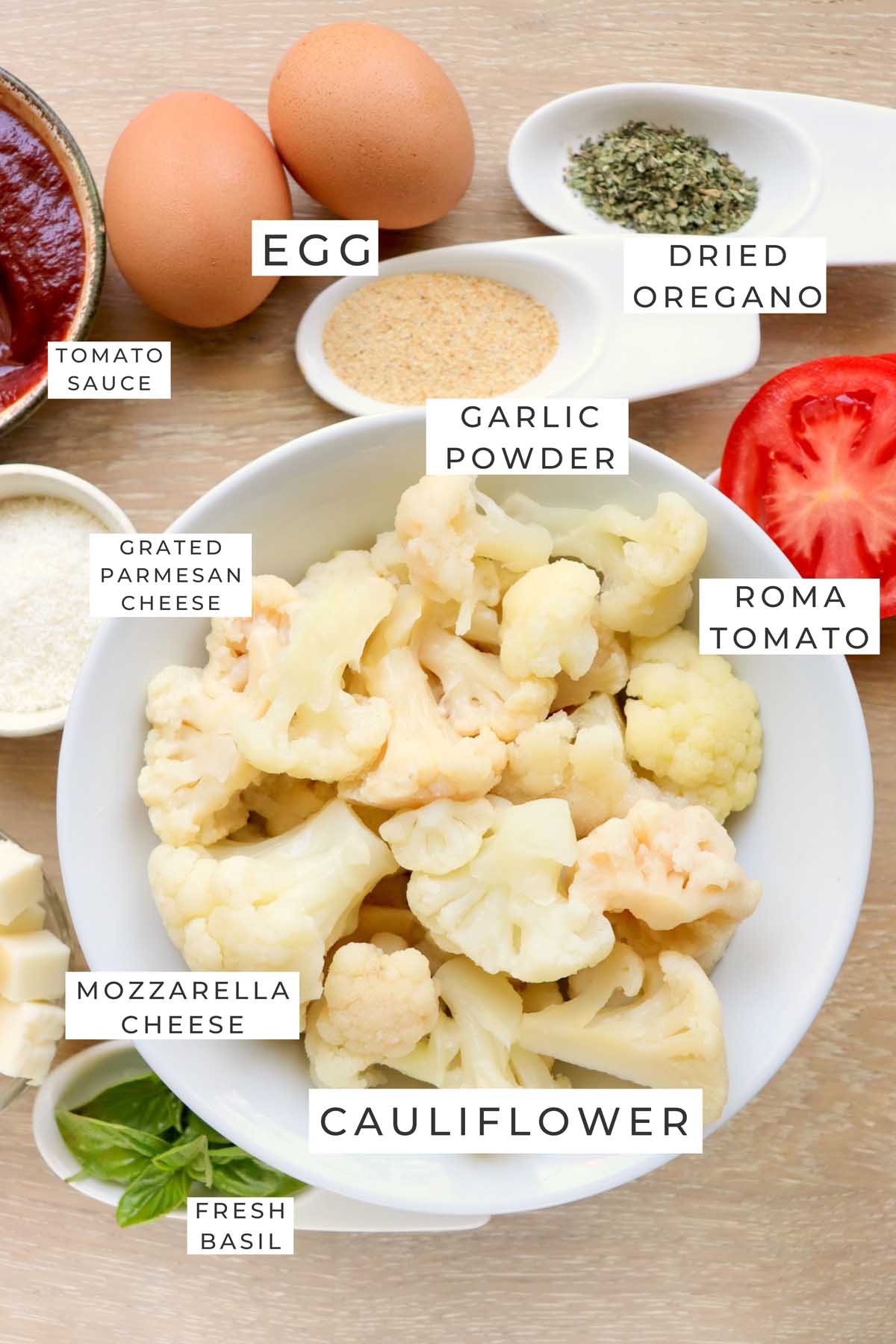 Cauliflower Crust Ingredients
Here's what you'll need for the crust:
Cauliflower: The florets from one large head of cauliflower should be plenty to make enough dough for a 10-12" pizza. You may want an extra on hand if they're on the smaller side.  
Mozzarella Cheese: As the crust bakes, the cheese melts and acts as the glue that holds it all together. Use firm, low-moisture mozzarella shredded off a log or pre-shredded mozzarella cheese. 
Parmesan Cheese: We're doubling up on the cheese to help strengthen the dough and make it more flavorful. 
Dried Herbs & Spices: A simple mix of dried oregano, salt, and garlic powder adds just the right flavor. 
Eggs: Adding beaten eggs to this pizza dough improves the browning qualities, making it golden and crispy.
Topping Ingredients
To turn the plain crust into a delicious margherita pizza, you'll need the following:
Olive Oil: Use good quality Italian olive oil or extra virgin olive oil. 
Garlic Cloves: I kept it at two, but adding another clove or two is never a bad idea. 
Tomato Sauce: I use a no-frills 8-ounce can of tomato sauce, but pizza sauce also works. 
Tomatoes:  I like sliced roma tomatoes, but San Marzano tomatoes are the standard for a proper margherita pizza. That said, any meaty, flavorful tomato works here.   
Mozzarella: For the look of classic margherita pizza, a log of fresh mozzarella cheese sliced into ¼-inch thick rounds is best. However, if the aesthetic isn't a concern, shredded low-moisture mozzarella or halved bocconcini (mini mozzarella balls) are perfect on this pizza. 
Fresh Basil Leaves: If your basil leaves are on the larger side, give them a light chop or keep the leaves whole -up to you!
Cracked Black Pepper: To taste. 
Step-By-Step Instructions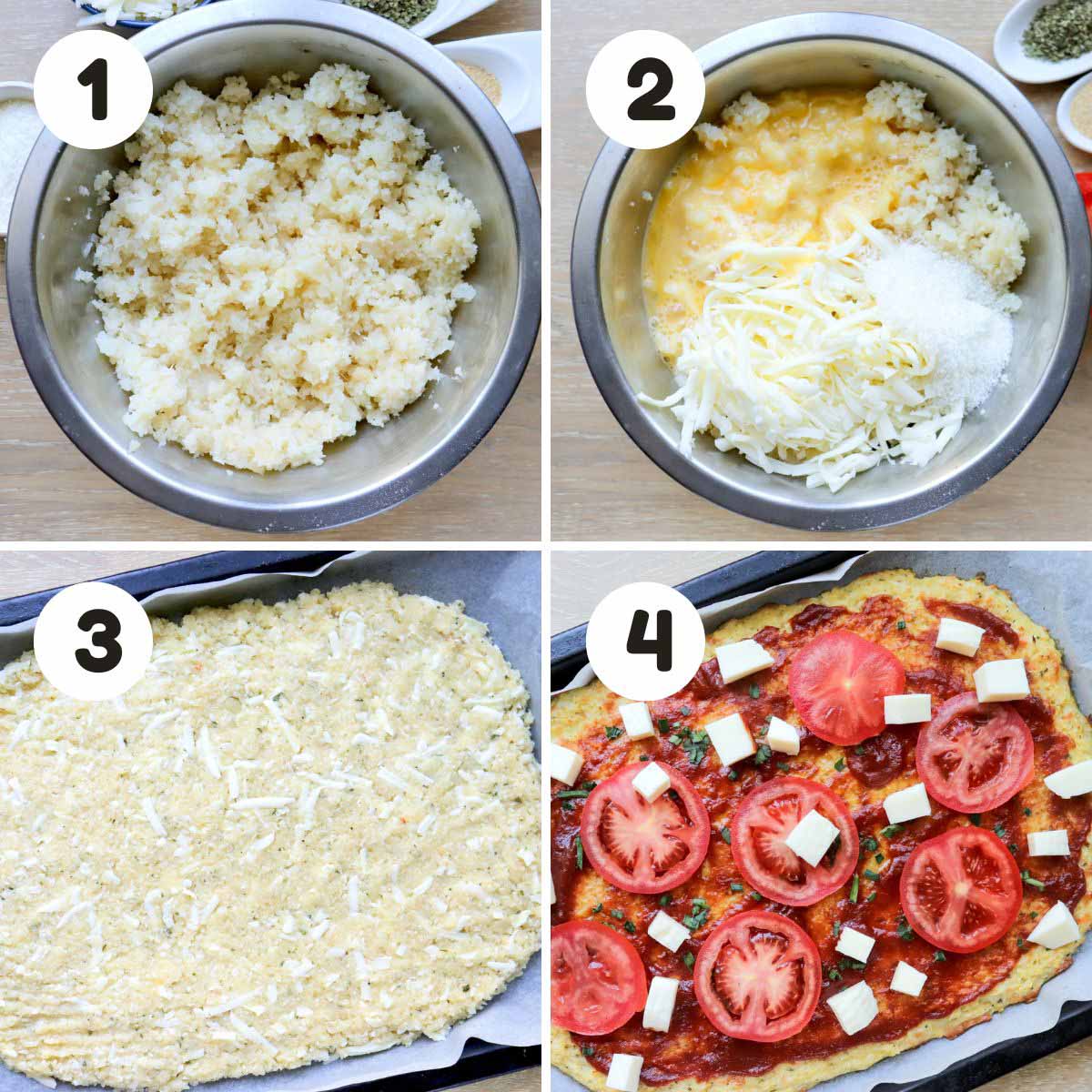 Step 1: Prepare for baking.
Preheat the oven to 400 degrees F, and line a baking sheet with parchment paper. 
Step 2: Grate cauliflower.
Soak the cauliflower in a bowl of cool water, transfer it to a colander, and rinse it again under cool running water. Pat dry, then chop, removing the florets from the stem. Place the florets in a food processor and pulse until finely grated.
Step 3: Steam cauliflower.
Combine cauliflower and 3 tablespoons of water in a microwave-safe bowl. Cover with a plate and heat for about 4 minutes. Let stand in the microwave for 1 minute. The steam trapped under the plate will be hot!
Step 4: Make dough.
Add the steamed cauliflower, mozzarella, parmesan, oregano, salt, garlic powder, and beaten eggs to a large mixing bowl. Using your hands, mix the ingredients until incorporated and a thick, sturdy dough forms.
Step 5: Bake.
Plop the dough in the center of the prepared baking sheet, then use your hands to spread it out evenly in a circular shape, approximately the width of the baking sheet. Bake for 30 minutes.
Step 6: Add toppings.
Remove from the oven and brush olive oil over the crust. Scatter the minced garlic evenly over the top. Then add the tomato sauce and spread it evenly, leaving an inch of space around the perimeter. Top with sliced tomatoes, mozzarella cheese, and fresh basil.
Step 7: Bake again.
Return the pizza to the oven for 10-15 minutes or until the cheese is melted and the tomatoes appear dry and shriveled. 
Step 8: Slice and serve.
Remove the pizza from the oven and season with fresh cracked pepper. Let rest for 2-3 minutes, slice, and enjoy!
NOTE: You can print the FULL recipe with all ingredients & detailed instructions below!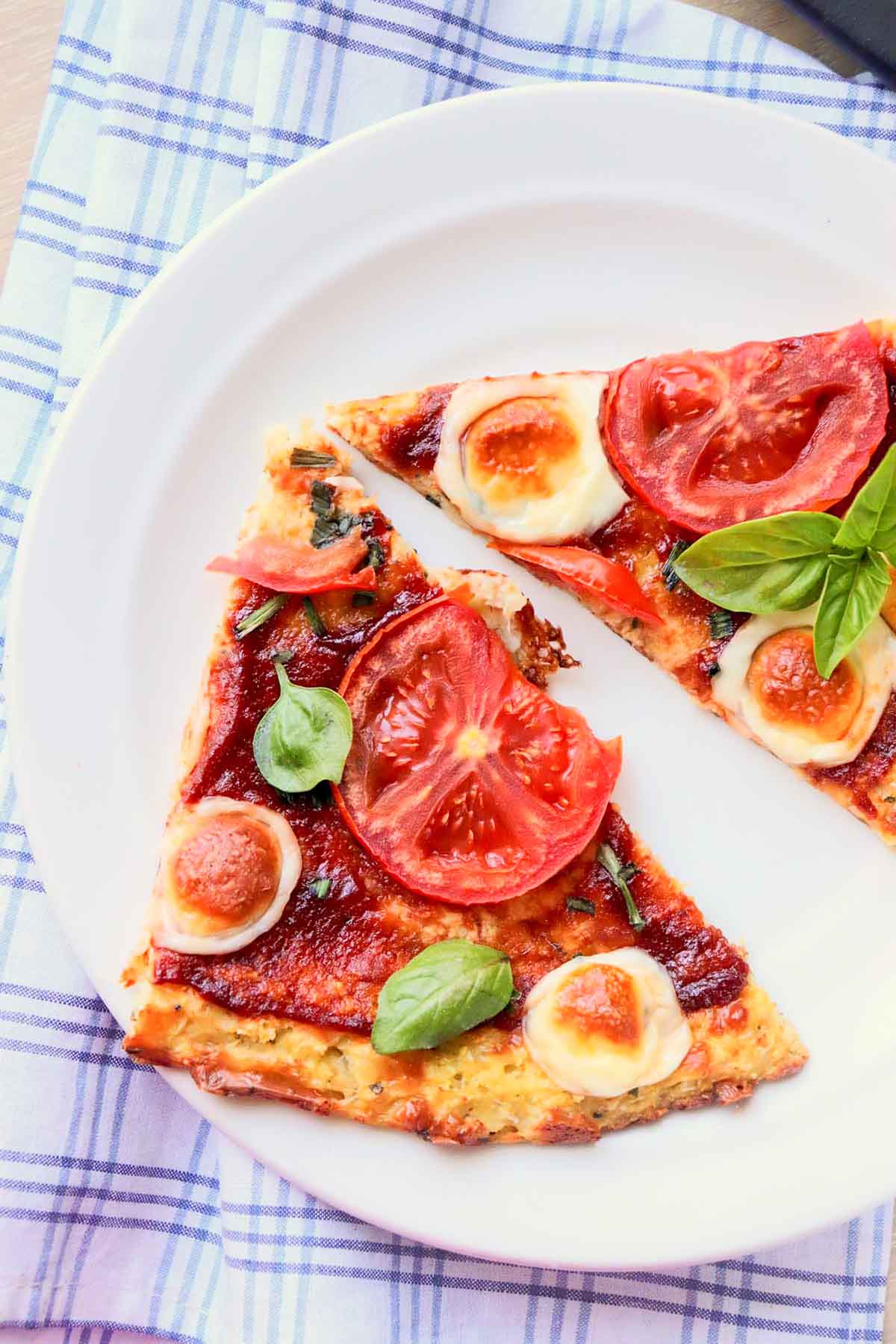 Expert Tips
If you don't have a food processor, you can use a box grater to grate the cauliflower. In that case, do not remove the florets from the head. Instead, leave it whole, so you can grip the stemmed end while pushing the florets through the grater.
After steaming, the cauliflower should have a lightly moistened, mealy texture, but it shouldn't appear wet. For the best results, squeeze out as much water as possible before mixing your dough.
If you like extra crispy, well-done pizza, cook the pizza under the broiler for the last 2-3 minutes or until the crust and toppings are browned to your liking.
Topping Ideas
Instead of topping the cauliflower crust with margarita-style ingredients, get creative with any combination of your favorite pizza toppings. Here are some delicious keto-friendly pizza toppings to choose from:
Artichoke Hearts
Anchovies
Arugula
Bacon
Banana Peppers
Bell Peppers
Broccoli
Extra Cheese
Ground Beef
Ham
Mushrooms
Black Olives
Pepperoni
Italian Sausage
Spinach
Zucchini
Storing
Storing: If you have leftovers, let the pizza slices cool and keep them wrapped in the refrigerator for up to 3 days. I do not recommend freezing leftovers.
Reheating: To reheat leftovers, place the slices on a baking sheet and warm under the broil until the crust is re-crisped and the cheese is gooey.
Recipe FAQ's
Can I make the crust with frozen cauliflower instead of fresh?
You can, but with modifications. Frozen cauliflower has a higher water content, so the trick is to dry it as much as possible. To do so, first, thaw the florets in the fridge. Once thawed, bundle in cheesecloth or a clean kitchen towel and squeeze out as much moisture as possible. Then grate the cauliflower, steam it, and strain it once more.
Can I use frozen riced cauliflower to make the crust?
Yes. If you use riced cauliflower, you can skip ahead to steaming it in the microwave as directed on the package and then strain the "rice" well as directed.
Can I freeze the cauliflower crust without toppings?
I haven't tried freezing this crust recipe, but if you want to give it a shot, I suggest preparing and baking the cauliflower crust as directed. First, let it cool completely, then set the cauliflower crust in the freezer on a flat surface. Once frozen solid, wrap it tightly with plastic and freeze for up to 3 months.
More Must Try Cauliflower Recipes
If you love this recipe, please leave a comment with a five-star rating — or simply hit the five-star button in the recipe card. Don't forget to signup for my newsletter.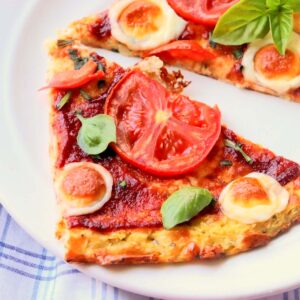 Cauliflower Crust Margherita Pizza
Cauliflower crust margherita pizza is the perfect lower carb option compared to regular pizza crust. Made with fresh cauliflower and topped with fresh tomatoes and mozzarella cheese.
Ingredients
For Crust
1

head cauliflower

½

cup

shredded mozzarella cheese

¼

cup

grated parmesan cheese

½

teaspoon

dried oregano

½

teaspoon

salt

¼

teaspoon

garlic powder

2

eggs

lightly beaten
For Toppings
1

tablespoon

olive oil

2

cloves

garlic

minced

8

ounce

can tomato sauce

1

Roma tomato

sliced thin

8

ounces

mozzarella cheese

sliced ¼ inch thick

Fresh basil leaves

Fresh ground black pepper

to taste
Instructions
For Crust
Preheat the oven to 400°F. Line a baking sheet with parchment paper. 

Cut the florets off the head of cauliflower and transfer them to a food processor. Process the florets until they are fine.

Steam the cauliflower.

In a large bowl, combine the cauliflower with the mozzarella, Parmesan, oregano, salt, garlic powder and eggs.

Transfer the cauliflower mixture to the center of the parchment paper lined baking sheet. Spread into a circle, approximately 12 inches in diameter. Bake for 30 minutes.
For Toppings
Using a pastry brush, brush the olive oil over the top of the crust. Spread the minced garlic over the olive oil.

Spread the tomato sauce over the top of the pizza, leaving about a 1-inch border. 

Top pizza with sliced tomatoes and mozzarella cheese. Then top with fresh basil leaves. 

Bake pizza for 10-15 minutes longer, until cheese is melted. 

Remove pizza from oven and sprinkle with fresh cracked pepper. 
Notes
To steam the cauliflower, place the cauliflower in a large microwave safe bowl, add 3 tablespoons of water to the bowl. Place a plate over the bowl, and microwave for about 4 minutes. Let the cauliflower sit in the microwave for a minute before removing. The steam trapped under the plate will be hot, so be careful.  
Nutrition
Calories:
253
kcal
Carbohydrates:
11
g
Protein:
19
g
Fat:
16
g
Saturated Fat:
8
g
Polyunsaturated Fat:
6
g
Cholesterol:
93
mg
Sodium:
844
mg
Fiber:
5
g
Sugar:
4
g
All nutritional information is based on third-party calculations and should be considered estimates. Actual nutritional content will vary with brands used, measuring methods, portion sizes and more.